Applicant Webinar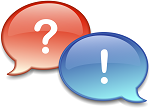 November 8, 2016
Dear Applicant,
We are officially at the one-month mark to the December 7 application deadline for our Summer Internship Program! As you prepare to apply, questions will sure come up.
How is HCC different from other internship opportunities?

How to write a compelling statement of purpose?

How are applicants matched with internship host organizations?  
We are hosting a number of informational webinars to provide a detailed overview of our Summer Internship Program, the application process, and answer your questions. Don't miss this opportunity to get insights from former interns about their experience and pointers from staff on how to prepare a competitive application!
Click one of the links below to register.
Here is one key pointer to follow right now: Even if you aren't able to finish it right away, start your application right now, become familiar with it before attending the webinar, and ask better questions during the webinar. So, don't delay—start your application now and take a step toward a paid internship and your career!